Have you said any of this lately?
"Our internet is slow sometimes. Sending large files takes forever, and VPN access is unusable."
"Our systems get regularly infected with viruses, and we've been hacked once already."
"Our company is growing, and we need a bigger and more secure IT infrastructure."
"Our current IT provider doesn't respond fast enough and can't always solve our problems."
"We are too dependent on a single technician and often waste our own time to resolve ongoing issues."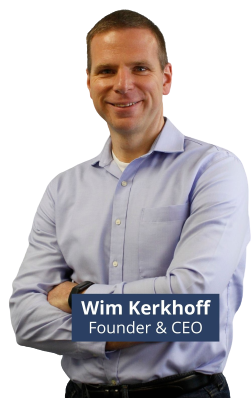 That's exactly the problems we solve at Kerkhoff Technologies. Quickly, reliably and transparently.
We are a team of IT consultants who support businesses of all sizes and solve IT problems of any caliber: from setting up new workstations and email accounts to rolling out new technologies and upgrading your IT infrastructure.
With not only Windows but also Linux and DevOps skills under our belt, we can solve more complex problems and implement advanced technologies quicker.
Plus, we're nice, patient and friendly—a complete opposite of your last IT service provider—and value your trust and our relationship with you.
Here's what our clients say
Reliable, knowledgeable and patient IT staff
The Kerkhoff Technologies staff has always been very helpful, reliable and patient. They have never told us that there's no solution to our issues. Even if they didn't have the solution on the spot, they went back and researched it and have always been very proactive.
With Kerkhoff, we have someone we can trust to always give us sound advice.
Their CEO Wim is very knowledgeable about IT and actually cares about what he does. He also expects a certain level of excellence from his employees, who always keep their skills up-to-date and seem to really enjoy what they do.
                                     Sharron Young, Managing Director, Skawahlook 
Managed IT Services & IT Consulting
Professional IT support and consulting for Windows and Linux. Based in Chilliwack, B.C., Canada. Serving clients world-wide.
Setup of new computers & workstations
Email setup, support & troubleshooting
Wifi setup, support & troubleshooting
Microsoft 365 license & subscription management
Microsoft 365 ongoing support & maintenance
Server support & migration
Installation, configuration & performance optimization
Server migration to cloud or new hardware or software
Security management, backups & recovery
Hardware procurement
Network security & support
Setup & configuration of business-grade firewall & anti-malware
Regular security audits & backups
Design & architecture of network infrastructure
Setup, configuration & troubleshooting of internet connections
Hardware & software procurement
Linux support & consulting
Monthly proactive maintenance
Ad hoc 24/7 support
System audit and optimization
Software development
Interested in working with us? Use the form below to schedule a free 20-minute call to discuss what you need and how we can help.
Do You Need a New IT Support Partner?
Is your business reliant on technology? Don't wait for a technical issue to occur before finding a great IT support partner.  
Download our free guide to choose the right one for you.